Description
12KW Steam Generator Steam bath – Stainless Steel
Introducing our 12kw Steam Generator. Unlike the dry and extreme hot traditional sauna, steam bathing is gentle and soft. The temperature range 45°C – 65°C is similar to the daily bathing environment and will not cause irritation feeling on your skin. The continuous steam ensures constant humidity of 45°C – 65°C. Steam bathing is suitable for all ages especially for those who cannot stay long in a traditional sauna while providing you with the same sensation of relaxation and pleasure. Steam bathing is the perfect replacement or compliment to a traditional sauna.
Digital controlling with style—New NT-200, the slim programmable steam generator panel
NT-200 is an elegant new-generation digital control panel. With NT-200, you can control the functions of your Nature sauna steam generator easily. It allows you to control practically anything that can be electronically controlled: operating time, temperature and lighting. With a chrome-plated digital control panel, the style is in line with other details of modern saunas and bathrooms. With the super slim and flat design, the control panel can be installed in virtually any dry place and the installation could never be easier.
Dimensions: 

 4" X 4.5" X 1" (Wide x Height x Depth) 10×11.5×2.5cm

Weight: 0.5 lb (150g)

Temperature display range:43 

–

-140 ¨H   (6–55 ¡æ )

Temperature setting range:95–131 ¨H   (35–60 ¡æ )

Working time range: 0~60 minutes or 'CH' Non-stop mode

Display: Environmental temperature in Fahrenheit .

Indicator for setting-temperature and remaining working time on a 1¡§C5 scale.

Indicator for the heating elements and light status.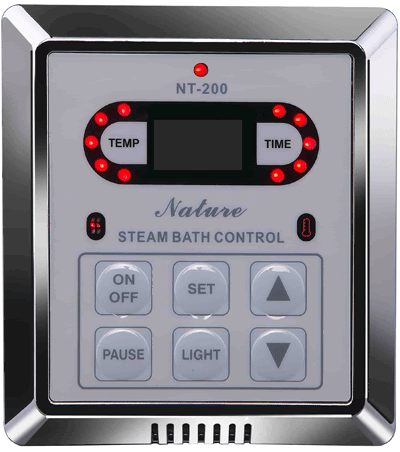 1. Made of 100% non-toxic stainless steel
Steady steam after 8~15 minutes when steam generator is fully filled
2. Enhanced Motorized auto drain system 
Every steam generator requires routine maintenance. If the generator is not used every day, it must be drained completely. Our new auto drain function flushes automatically after each use and clean the water tank to keep the water inside fresh and clean. More importantly, it substantially reduces the chance of mineral, and rust buildup. Generator can be completely drained within 90 seconds. Unlike other electromagatic drain valve, our motorized drain system is much more powerful and never fails due to scum blockage. Well-designed Auto drain function is highly recommended to prolong the life of generator.
4. Automatic water supplementing function. 
With our electric water level detecting system, the generator will monitor and maintain water level inside the tank automatically.
5. Multiple safety protection.
Multi-sensor system, Over heat protection, short-of-water protection, inner tank high-pressure protection and etc.
6. Easy operation and maintenance.
7. CE and ISO9001:2008 certificated product. 

(Please check with your electrician about local requirement before purchasing )

Specifications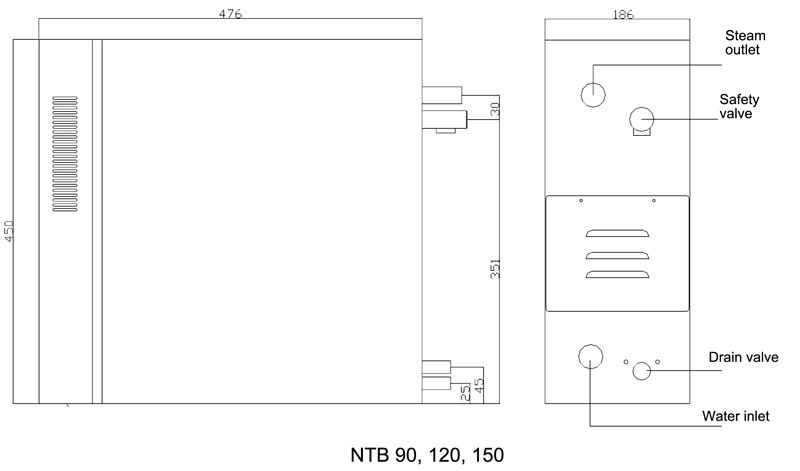 | | |
| --- | --- |
| Model | SS-NTB120 |
| Output power | 12000W (12KW) |
| Input Voltage | 240V |
| Current | 50A |
| Required Breaker | >60A |
| Suitable for | 388~495  cubic feet well-insulated steam roomwith at least 7′ ceilling |
| Controller  | NT-200 programable digital controller |
| Dimension | 476mm*186mm*450mm (18.6*7.3*17.7 inch) |
| Available Certification | CE (TheCE marking certifies that a product has met EU consumer safety, health or environmental requirements.) |
| | ISO9001:ISO 9001:2008 Quality management systems qualified. |
Generator Sizing
Multiply the Length _____ x Width _____ x Height _____ = Room Volume
Adjustments to Room Volume:

Ceramic Tile is multiplied by 1.30
All Glass tile or Glass Block Walls is multiplied by 1.35
Porcelain tile is multiplied by 1.60
Natural stone tiles* up to 1/2″ is multiplied by 2.00
Natural stone slabs over 1/2″ is multiplied by 2.25

Add all figures above to obtain the Total Room Volume required = Total Adjusted Room Volume.